---
WHAT: A rich week of relaxing, eating, swimming, water skiing, hiking, exploring, eating, sleeping, partying, playing with marine/ham radios, fishing, eating, and living in a swimsuit or less in canyon country. It's a small-group getaway adventure, where we spend seven nights aboard the Wildwind II, a privately owned houseboat 62' long, 16' wide, brand new in 2001. The boat has a flying bridge, quiet 4-stroke outboards, a giant living area with a fully equipped galley, two bathrooms, a shower, a waterslide that drops from the roof into the lake, and inside sleeping space for 15. Check out Wildwind II's floor plan, interior photos, and construction photos.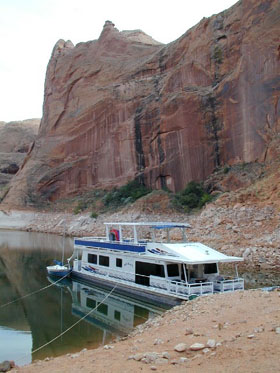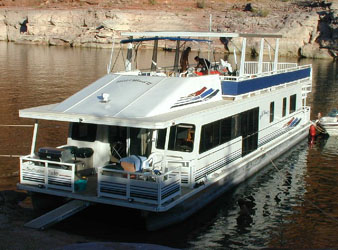 We enjoy warm, emerald green water amidst orange cliffs and sinewy canyons, remote from civilization. We sleep indoors or camp on the top deck under stars, anchored to shore in different places most nights. Destination details are negotiable for each trip based on crew preferences. Except for when we are in a marina, we need not wear anything the entire week. No smoking or pets aboard ship. A mellow, flexible, cooperative attitude is essential. On Lake Powell, one should expect the unexpected: it's an adventure, not a cruise. Read the trip reports from 2001, 2002, 2004, or 2007! (Sorry, other trip reports haven't been written yet.)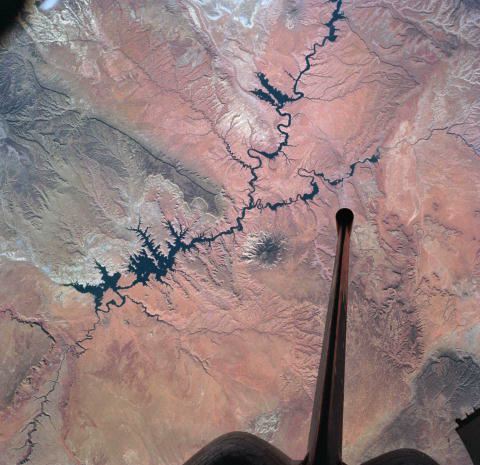 WHERE: Lake Powell, southeast Utah, a sinuous, 145-mile-long, man-made reservoir in Glen Canyon along the course of the Colorado River, with nearly 2000 miles of shoreline. We depart from and return to Bullfrog Bay, in the middle of the lake (mile 95). Bullfrog appears in the center and toward the top of this photo taken from the Space Shuttle.
Words can't do justice to the beauty and majesty of Lake Powell; it's a sight to be experienced, not described. Wide-open waters for swimming, boating and skiing; narrow, high-walled canyons barely wide enough for a powerboat or even a kayak; a majestic yet alien landscape tailor-made for rock climbers and artists. Wandering the myriad labyrinthine side canyons is like exploring a fractal ... but from the inside. If you haven't been to the alternate reality that is Lake Powell, it's hard to explain; if you have, no explanation is needed...
If you have a broadband connection, browse through this collection of Lake Powell panoramic photographs I created during several trips to the lake.

WHEN: My time varies from year to year according to a complicated formula, but runs almost always from one Sunday to the next. In 2015, my week runs from July 26 through August 2.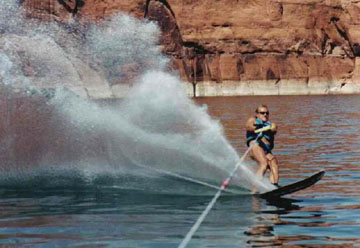 The weather will be great for canyon exploring, and swimming (even at night!) and water skiing. The moon will be full and fullish throughout the week, affording easier night time living aboard.

Looking good, Bert cuts a swath: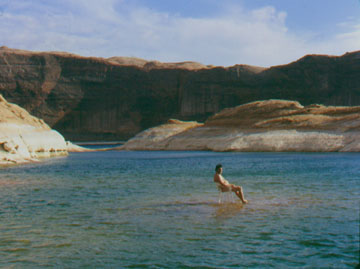 WHO:
Houseboat share owner is David Herberg of Monte Sereno, California. I often enjoy inviting friends who share the adventuring spirit and participate in crewing the boat. My limit is 10 people (more or less); we prefer less-crowded trips, and have gone with as few as three people or as many as 14. Please note that I only offer to share my own vacation by personal invitation, and I am not in the travel agency business. Merely reading this web page does not in itself constitute such an invitation. If you'd like, it is always possible to create your own trip with a houseboat rented from ARAMARK, the official Lake Powell concessionaire.

Although Jesus walks on the water, I find it easier to remain seated.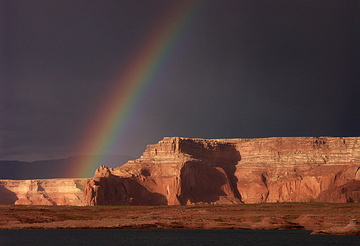 SHARED EXPENSES: Vary from trip to trip, based upon time of year, number of guests, etc. The trips are conducted in a shared-expense, non-profit manner: I pay my own way, any excess is refunded, and I carry forward any deficit. The shared expenses include all meals and snacks aboard ship (but not alcoholic beverages); houseboat and ski boat fuel and oil; our annual maintenance fees; and various shared incidentals, but no travel expenses to and from Utah.
Also, the shared expenses include a $200 honorarium to each person bringing a ski boat, plus we buy all the gas and oil needed for the ski boat at the lake. The houseboat now comes with a 200-gallon auxiliary gas tank, so those annoying fuel runs to the marina are eliminated, and we can wander farther from the crowds. Leftover food (often quite a lot) is divided among the (surviving :-) crew at the end of the week.


---
CONTACT: David Herberg, home: 408-395-3823
or





For your further surfing pleasure, I have also prepared a Lake Powell links page.